Beauty is not caused. It is. Emphasizing natural beauty in a style that reflects mood and taste.

---
Elizabeth has received specialized training and certification in makeup artistry and has years of experience with makeup for photography, high-definition video, and various lighting conditions She is a licensed esthetician who adheres to sanitation guidelines and carries a kit suitable for global skin tones and varying textures. Elizabeth offers her services on-location and is always interested in creative projects. Please contact
(773) 669-8261
or
makeup@elizabethartistry.com
for hourly and day rates.
---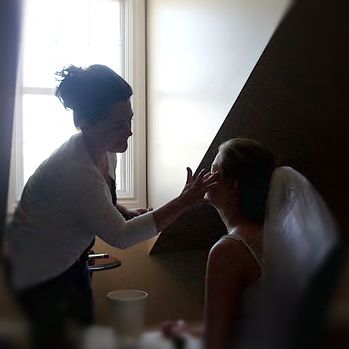 Elizabeth York, Chicago Makeup Artist

My Mother has a picture of me at two years old with her mascara and lipstick smeared across my cheeks. At age four, she picked me up from the sitter only to discover that I had given myself "bangs" with a pair of scissors. At twelve I was studying the pages of Sassy, YM, and Seventeeen magazines, and had two distinctly different-shaped eyebrows after dabbling in the art of brow-shaping (my skill has since improved). And by high school I was the makeup artist to all my friends and styling fashion photo shoots out of my bedroom on the weekends.

Making people look and more importantly feel beautiful is what I was born to do. For me it is not about vanity; it's about curiosity, creativity, confidence, and fun. I appreciate the beauty unique to each individual and my approach as a makeup artist is to emphasize natural beauty in a style that suits personality and taste. Everyone looks their best when they feel great, and my goal is to leave you looking and feeling like the most confident, glowing version of yourself.

---
---
Individual Makeup Application
Includes traditional or airbrush foundation, natural or glam eye makeup, optional faux lash application, lip color.
$90.00

Men's Grooming
Includes traditional or airbrush foundation, dry facial hair grooming.
$45.00

Makeup Lessons
Create and define your style. Book two hours with your own personal makeup artist! Elizabeth will answer your questions, teach you application techniques, and work with you to create a shopping list based on your needs and style so you can re-create the looks on your own. Makes a great gift for you daughter, wife, mom, or girlfriend!
$150.00 and up

Additional Chicago area travel and parking fees may apply.


Body Makeup
Cover tattoos, scars, bruises, varicose veins, and other skin imperfections.
$25.00 and up

Faux Lash Application
Application of individual or strip lashes.
$20.00

Makeup Parties
Excellent for birthdays, bachelorette parties, or just a fun night with the girls. Elizabeth will glam up you and your friends during your get-together. Host a makeup party while you and your girls get ready to head out on the town. Or bring in a photographer and have your own fashion photo shoot with your friends!
$200.00 and up

Gift Certificates Available!


Looking for hair services? Elizabeth Artistry works with several stylists throughout Chicago who offer on-location services.

---
---
---